 Education Is Freedom
We believe that education is a powerful agent to building healthy communities. Our mission at Kolej Bon Samaritan (The Good Samaritan School) is to partner with key stakeholders (parents, teachers, local businesses, and government officials) to provide a safe, enriched learning environment where children develop intellectually, socially, emotionally, spiritually and civically. We pray that our education program's individualized approach will spark our students to be the agents that break the cycle of poverty, build a skilled workforce, improve health outcomes, and will strengthen democracy in Haiti while preserving Haitian culture.
Children Have Attended Our Primary School
Children Exposed To STEM Learning
Grads Attending Medical School
Kids Currently In College Or Professional School
Adults Have Learned To Read And Write
Mother Tongue
Unlike most Haitian schools which prioritizes instruction in French, our pedagogy focuses on Kreyol instruction with introduction to French and English as foreign languages in the 2nd grade. Research shows that education in the mother tongue is a key factor for inclusion and quality learning, and it also improves learning outcomes and academic performance. Our students have the opportunity to thrive because they are learning in the language they already speak at home!
Special Education
Only about 3% of children with special needs receive any type of education. In Haiti disabilities are often viewed as a supernatural occurrence which leads to discrimination against persons with disabilities.
A couple of years after starting our school, we recognized a great need to develop a special needs program for unique minds. Many of the children in our care and those attending our school from the local community have suffered from trauma and malnutrition, the effects of which are immense on a child's ability to learn and develop. Our special needs class is called Papiyon, which means 'butterfly' in Haitian Creole because each and every single child deserves the care and love to flourish. They receive individualized inclusive learning plans from highly trained teachers and psychologists.
Stem & Robotics
HHA has partnered with Lets Go Boys and Girls of Baltimore, MD. to add science, technology, engineering and math (STEM) as well as robotics to our standard curriculum. This program of scientific experiments and concepts encourages kids to become technology leaders of tomorrow. Our kids and teachers alike absolutely love this program and have so much fun doing the hands-on activities and learning science and engineering themes and vocabulary. It is wonderful to see the students think critically, ask questions and be completely engaged during each session. We know that encouraging the student's natural curiosity with STEM skills will help them with all their schoolwork as well as give them the knowledge and confidence they will need to be the future leaders of Haiti.
College Prep
This program is a continuation of our elementary school preparing students for their baccalaureate exam. We offer competitive education so that students will have a better chance of being accepted into the limited number of higher education institutions. A distinct part of our program is that we work with each student to create an individualized academic and career plan.
Vocational Program
Our vocational program is designed to help address the skills gap and lack of job opportunity. The program will provide a pathway to meaningful employment and lead to the opportunity for graduates to start their own successful businesses and not be dependent Haiti's struggling job market. Our program includes agriculture, carpentry, masonry, automotive, sewing, cosmetology, and more.
English Fluency
Although French and Haitian Creole are the official languages of Haiti there is a growing recognition of the importance of English fluency for the economic and social development of Haiti. Therefore, we offer English instruction and English immersion opportunities for all teachers and students.
Our Education Program Is Changing Lives
College And Professional School
We currently have 5 students enrolled in university and professional programs across Haiti.
Medical School
We currently have 2 students attending medical school in Cuba. They've committed to return to Haiti once they become doctors.
Evelyn was one of our first children to work with and was facing death when we met her. She is now about to graduate from college and from cosmetology school in the same month!!!
"I dream of starting my own business and also start a counseling center so that I can encourage people who can relate to my story."
– Evelyn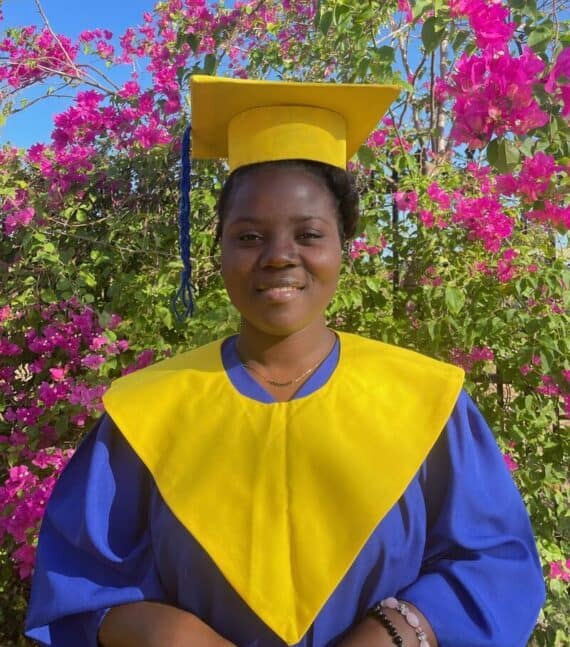 Sponsor A Student
When you support our education efforts you are supporting a child in Haiti who is likely the first in their entire family to go to school. Your gift covers tuition, food, and resources to help every child succeed.